Finding your Inborn Voice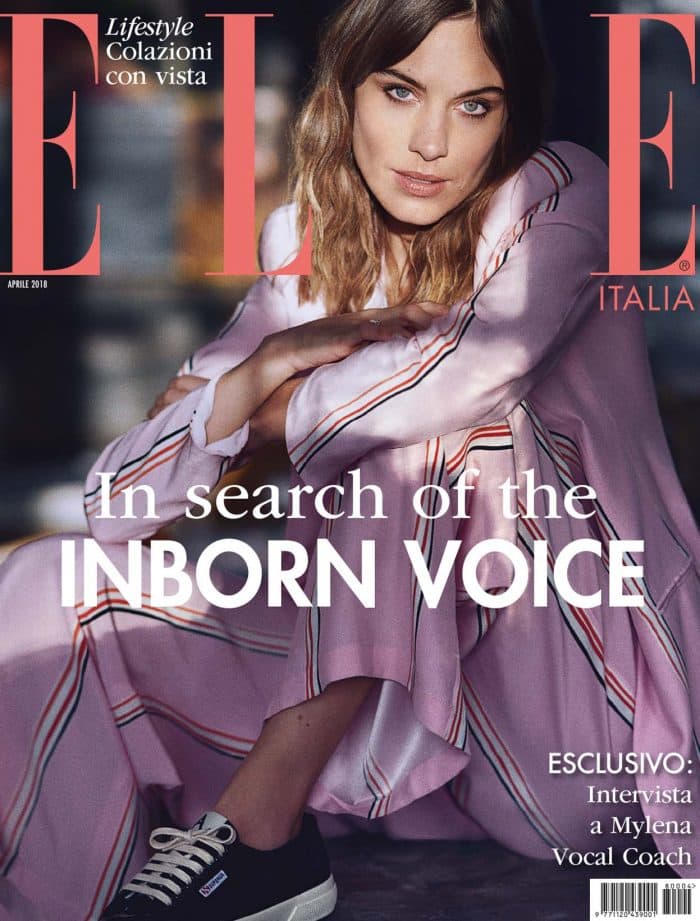 This is the title given by Elle to my interview.
I'm so proud that such a famous magazine has chiose me to spread the voice on how important is the Vocal Health and the correct training of the voice.
On the article you can read, that the Inborn voice «is the one that everyone has "inside" and would like – but we are not able – to let it emerge. Mylena Origgi, vocal coach from Boston, will help you find your Inborn Voice. And this is not only for singers or speaker, but for everyone! Letting out inborn voice free means finding your real essence.»
You can continue reading «Some people will listen to the voice recorded and say: "That's not me!". Some people run away from karaoke, some have a such "noisy" voice that no one will ever leave a voicemail for them (making them feel bad!), some speak with very low volume, some even stutter. And there is also who want to seduce, to enchant or, why not, to sing, but they simply feel this is not for them.»
The Interview continue with this question: What is the miracle you do to people's voices? Tone deaf that sing in tune, shy people that become confident, how? «There is no miracle. Everyone has an "outer" voice, the one that we don't love and that don't resonate within, and everyone has the "inner" voice, the one we would like to sound out in the world but we are not able to. My job is to help anyone finding their voice: the cleanest, the natural and the most energy voice».
The last question of the interview is: What is the best outcome of training a voice with you? «Self estime. You are finally in tune with yourself. You listen yourself and you recognize yourself in your voice. Your voice is the mirror of your soul».
I suggest you to buy the magazine to read the full interview, but you can preview it by clicking on the cover image.
Here is a photo of me with the magazine in Brooklyn, NY! Do I look happy?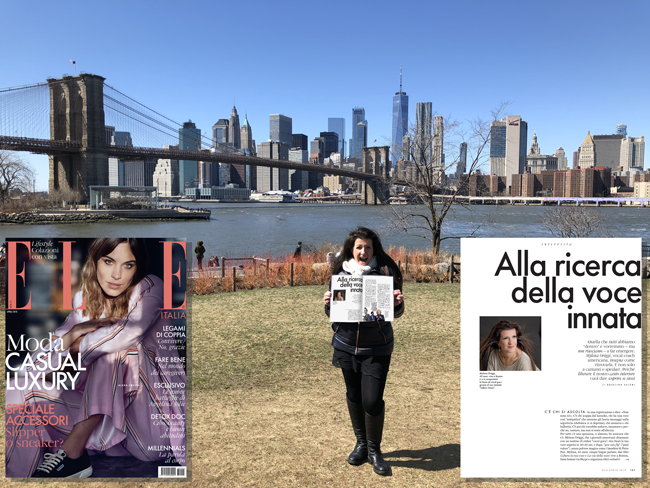 We grant everyone the opportunity to start with a first Voice Assessment session. It will not be required to sing to complete the meeting, which will take place online with Mylena Vocal Coach.

She will put all her 30+ years of international experience at your service, something no other Top Vocal Coach offers.

Afterwards, if you desire, you can begin with tailored vocal coaching sessions to address what you identified with Mylena or, if you prefer, with a certified Inborn Voice trainer.

Mylena Vocal Coach on the media:
Any questions? Ask Mylena Vocal Coach!
Do you want to learn how to sing or express your emotions?
Do you want to improve your range with private lessons, classes, or do you have any questions?
Fill out and submit the form!