Big Vocal Coaching event in New York!
This new year opens with big news ahead. In fact, just after my re-entry in the United States, I will be in Manhattan, New York City with an event of great international relevance.
I will be interviewed in a public presentation by La Stampa correspondent Francesco Semprini, in an event that will also bring my Vocal Coaching revolution to New York. From that date, in fact, I will start with my new studio's adventure in the Big Apple, the first Italian Vocal Coach to succeed in this great achievement. In addition to Milan, London and Boston, I will also have a studio in Manhattan!
The event will take place at the Urbani Truffle Lab, another Italian excellence in the world.
If you happen to be in the big apple at that moment, contact me and if possible I'll send you an invite!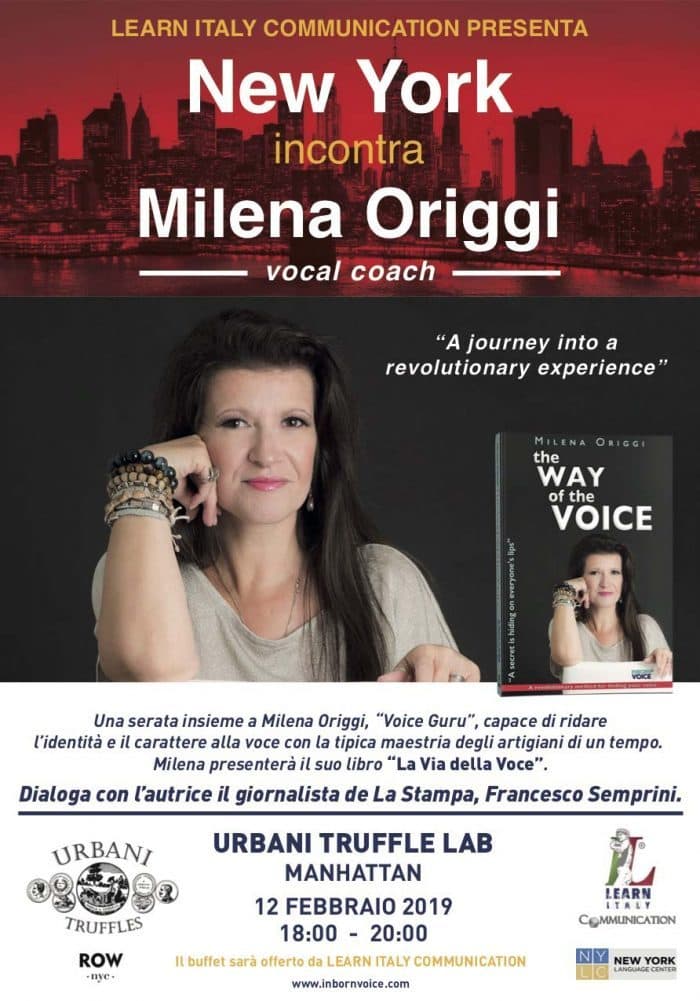 We grant everyone the opportunity to start with a first Voice Assessment session. It will not be required to sing to complete the meeting, which will take place online with Mylena Vocal Coach.

She will put all her 30+ years of international experience at your service, something no other Top Vocal Coach offers.

Afterwards, if you desire, you can begin with tailored vocal coaching sessions to address what you identified with Mylena or, if you prefer, with a certified Inborn Voice trainer.

Mylena Vocal Coach on the media:
Any questions? Ask Mylena Vocal Coach!
Do you want to learn how to sing or express your emotions?
Do you want to improve your range with private lessons, classes, or do you have any questions?
Fill out and submit the form!