The human voice is something delicate and precious, like the new life enclosed in an egg. A bad teacher will try to make it born by hatching the egg shell from the outside, applying pressure to the inside. This way the voice is risking to encounter premature death! Only a good teacher will know how to make the egg hatch from the inside, waiting for the moment where the voice is ready to present itself to the world.

You can follow me also on the youtube channel of FindyourVoice.

You can follow me also on the Facebook as FindyourVoiceGuru.


Since January 2010 I'm teaching also Online with excellent success.
Obviously the Online teaching is quite different from the face to face version, but still can guarantee a good level of success in quite short time.
In this case you will still have a preliminary online session with me, where we will find if and how to proceed. My lessons are not in karaoke style and they are always considering your vocal health at first. I receive a lot of emails from peoples that tell me many stories about their adventures into the world of voice teaching. If you find yourself without voice or with voice lowering just after a voice lesson, you have to use your brain. That's a symptom of disease and that the lessons are not healthy for you! The technical prerequisites for an Online lesson with me are not bare and simple. You will be contacted by my technical staff and you will instructed on how to proceed


In all of the bookstores in Italy and Online you will find available the results of my collaboration with some of the most well-known vocal coaches in the world. The book on how to learn to sing and speak correctly is titled "Libera la tua voce". The book presents a method of teaching adaptable to those who want to learn on their own, and it is complete with an instructional CD that contains exercises and has piano accompaniments for male and female voices. It is not necessary to know how to read music, it is enough to listen to the examples included and repeat them clearly as it is explained in the book.
You will find also exercises for breathing and posture. This book can surely also help those who don't want to learn on their own, but are looking for a good singing teacher and want to avoid possible negative consequences by choosing the wrong professional.
If you are interested in buying the book "Libera la tua voce" (written in Italian only) you can send me an email of request to: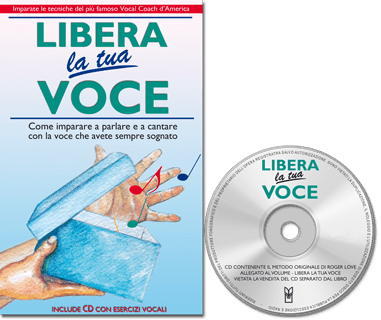 All the information contained in the book for learning to sing on this page.



The popular Italian magazine "TV Sorrisi e Canzoni" features an article about me and my website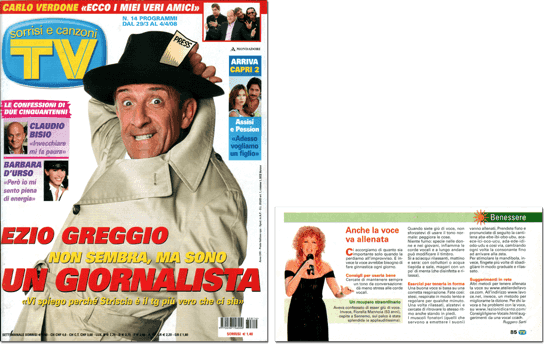 Here is an extract from the article, translated for you:
Even the voice must be trained
We realize how important the voice is when we lose it unexpectedly. But we should rather make some vocal exercises everyday, even when we think it is all right.
Advice for using it well
Try to always maintain a conversational tone: it puts less stress on the vocal cords. When your voice is lowered or weakened, don't force it to use a normal tone: this will make it worse.
Do not smoke: especially women and young people, this inflames the vocal cords and over the long term can change your vocal timbre. Yes to gentle flushes, morning and evening: mouthwashes and warm water and salt, maybe with a little mint (which disinfects and relaxes).